A present: Polyglobe Poster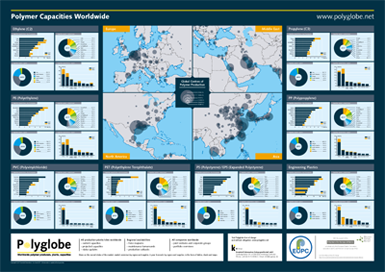 Order free poster (size A1)
The poster will be sent by post to the mailing address you specify.
View poster online ...
Good to know that you would like to get acquainted with Polyglobe!
The online capacity database enables you to plan even more efficiently and effectively. Polyglobe contains all the information you need in just one database: Say goodbye to the days of procuring expensive market studies and compiling your own exhaustive database.
Up-to-date online database
Products:

Monomers and polymers

Capacities:

Present and future capacities, market shares, rankings

Availabilities:

present, planned and historical. Includes forces majeures, turnarounds, etc.

Future plans:

new facilities, forecasts, growth rates, etc.

Producers:

Product portfolio, activities, co-operations, joint ventures, etc.
We have now summarised some of this valuable information for you in a special poster (size A1): Leading producers, market shares as well as current and planned capacities for the most important polymers. So you can always keep an eye on important market information!
See for yourself the valuable information Polyglobe offers you.